Feb. 8, 2012
A February day to remember.
Every now and then we all have one of those off the wall days where things just fall into place and a plan comes together perfectly. Yesterday was one of those days. I have heard reports of 'greenbacks' moving in from the mouth of the bay so I decided to load up the cast net and head south until I found them. Knowing this year, spring appears to have arrived early. Running down the bay, I spotted the bait, and in 2 throws of that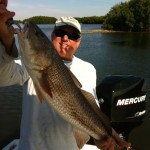 big net the live well was loaded. Now I had visions of big snook, redfish, and trout dancing in my head as I knew being one of the first to 'bait up', this trip we stood a great chance of completing an inshore grand slam.
Let me say this; the fish did not disappoint as the bite was off the hook. Huge trout to 25 inches, 30 inch redfish, and 4 snook bigger than 30 inches were caught in the next 2 hours. It was so much fun, I am still giddy. It is what I dream of. Everyone had tired arms in 2 hours from reeling in all the fish. Every bait was a hit. I kid you not. And the best part of this trip, it was Erik's 42nd birthday and he got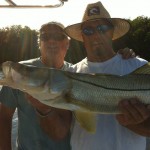 the biggest snook of them all, a real rogue. The second best part of this trip was; I wasn't dreaming, it really happened!
Tight lines,
Captain Mark